Q: When I am away from home and the puppy is in the kennel what is the best toy to give them?
A: When you are heading out of the house and the puppy is going to be staying in the kennel we want to make sure it is a positive experience for the puppy. One of the great ways to do that is by putting a Kong with frozen peanut butter inside of it in the kennel with the puppy. Have the kong be a special treat that is only brought out when you are heading out of the house to form a positive association. That being said,Make sure to be using peanut butter brands that are safe for your dog and do not contain Xylitol (which can be deadly for dogs). ***Note that xylitol may also be listed on a nutrition label as: xylite, anhydroxylitol, d-xylitol, xylitylglucoside, 1,4-anhydrous-d-xylitol
KONG – Classic Dog Toy – Durable Natural Rubber – Fun to Chew, Chase and Fetch
INSTINCTUAL NEEDS: The KONG Classic red rubber toy helps satisfy dogs' instinctual needs and provides mental stimulation. Healthy play is important for dogs' physical and mental development, emotions and behavior. By encouraging healthy play and satisfying instinctual needs, this toy helps solve chewing, separation anxiety, teething, boredom, weight management, crate training, digging, barking and more!

FETCH TOY: The KONG Classic's unpredictable bounce makes for exciting games of fetch and other interactive play with your pet.

AVERAGE CHEWING DOGS: The KONG Classic red rubber formula is created for average chewing dogs.

GREAT FOR STUFFING: The stuffable KONG Classic is even more enticing when stuffed with kibble, peanut butter, KONG Easy Treat, Snacks or Ziggies. Dishwasher safe for easy clean up. BONUS: For an added challenge, freeze stuffed KONG for 4-6 hours before giving to your dog.

VET RECOMMENDED: Veterinarians and trainers worldwide recommend the KONG Classic. Made in the USA. Globally Sourced Materials.

Age Range Description: All Life Stages
Q: What peanut butter brands are safe for my pup?
A: There a lot of brands of peanut butter that are dog specific and can be found on amazon as well as human brands that you can find in your local store. Something to be aware of for the human specific brands is that many will contain super and salt so should be given in moderation. 
Dog Specific Brands: 
Green Coast Pet All Natural Pawnut Butter For Dogs, 16 Ounce Jar 

KONG Real Peanut Butter Tube 

Poochie Peanut Butter 
Human brands that are dog safe: 
JIF ("JIF Natural" series preferred)

Peter Pan – does contain palm oil, which can cause intestinal issues for some dogs. Whileit is safe for your pet and does not contain Xylitol there are better options out there.

Teddie's – has one simple ingredient: dry-roasted peanuts! Great for your pup!

Skippy – does not have xylitol making it technically safe for your dog. Like Peter Pan, it does contain a lot of added sugar, salt, and palm oil making it not ideal.
Green Coast Pet All Natural Pawnut Butter For Dogs, 16 Ounce Jar
Full One Pound Jar Of Green Coast Pet Pawnut Butter

Fill Your Dog'S Toys With His Favorite Snack Without The Dangerous Ingredients Or Added Salt, Sugar, And Oils Of Other Brands

Made From Just Two Real, Wholesome Ingredients: Peanuts And Flaxseeds

Coat Your Dog'S Pills In Pawnut Butter For A Tasty Treat She'Ll Actually Look Forward To Taking

Our Pawnut Butter Is An Excellent Source Of Healthy Protein And Ala Omega 3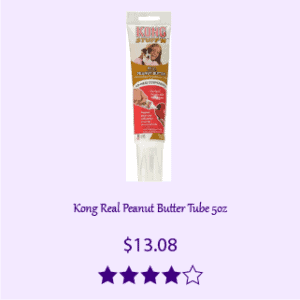 Kong Real Peanut Butter Tube 5oz
Recommended for use with all KONG Classic and KONG Extreme dog toys

All natural ingredients include roasted peanuts, sugar, hydrogenated vegetable oil to prevent separation and salt

KONG Real Peanut Butter uses a formula that is virtually identical to peanut butter brands commonly found on grocery store shelves

Simply insert the filling nozzle into the large hole of the KONG toy and squeeze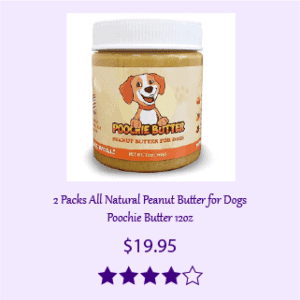 2 Packs All Natural Peanut Butter for Dogs Poochie Butter 12oz
All Natural | No Preservatives

Added Supplements for Wellness and Performance

Made in USA
Q: What are options for potty training my dog if I don't have a doggy door?
A: There a lot of great methods and products you can use to help train your dog to tell you when they need to go potty, no doggy door needed. Here are a few:
Mighty Paw Smart Bell 2.0, Dog Potty Communication Doorbell, Super-Light Press Button Doorbell
NO "STRINGS" ATTACHED: No wires or batteries required – bell is easily mounted on your door or wall with a 3M adhesive strip, no tools necessary!

EASY-TO-USE: Bell rings using just .75 lbs of pressure, making it easy to use for dogs of any size.

CUSTOMIZABLE: Bell volume and ring tone can be customized to the style of your choice, with 4 different volumes and 38 different tones to choose from! Activator and receiver communicate as far as 1000 feet from each other when indoors.

WATER-RESISTANT: Can be used both indoors and outdoors

BORN IN THE USA: Mighty Paw is family-owned and operated out of Rochester, NY. We stand behind our products! Not satisfied with your product? Return it to us within 90 days and get 100% of your money back! EXTRA PIECES: Search ASIN B07GJ6FTK6 to purchase additional Receivers + Activators.
WOHENI Dog Doorbells for Potty Training, Adjustable Potty Dog Bells Pet Bells for Door Knob, Puppy Training, Housebreaking, Go Outside-Potty, and Extra Loud Bells (2 Pack)
?【Excellent Training Device】: WOHENI Dog Training Bells are one of the easy and non-confrontational solutions to toilet train family's best friend. Using dog bells have is proven to be an easier, fun and a win-win way for your dog to communicate Instead of barking, scratching or it having to resort to more intrusive method. dog doorbell for potty training, dog door bell, dog doorbells premium

?【Adjustable Length】: Adjustable door bell length for small, medium and large dogs. Adjustable Belt Length: from 31 inches to 33 inches. Easily adjusting the length to fit the different type of doorknob, handle or hook. dog doorbell house training, dogs puppy potty training

?【Durable Material】: Made from strong and durable nylon material, lasts longer than other cheaply made alternatives. 7pcs 1.4″ extra loud stainless steel bells, shiny & jingle. Bell are made of premium quality material, the surface of bell adopt Plating coating technology to keep it shine and don't rust. Inside ball is made of premium stainless steel to make jingle sounds clear and crisp. dog doorbell for potty, training bell for door to train dog, house training bells

?【Tasteful Design】: An easier, better way for your dog to communicate! High quality and nice sounding bells 7 Big Extra Loud Bells yet easy on your ears to attend to your pet's nature call wherever you are in the house. dog doorbell bells for door knob, Dog Training Clicker

?【Package Include】: 2 pcs Dog doorbells, 1 pcs Dog Training Clicker, 2 pcs Collapsible Dog Bowl, 1 pcs Dog Hair Remover Glove (Right-hand), 1 pcs Dog Training Instruction. Lifetime, 100% money back. WOHENI Dog Training Bells are the pefect solution to toilet train your lovely pet. bells for the door for dogs puppy potty bells strap