Q: What is the best way to protect my pup's feet in the AZ heat?
A: Living in AZ, protecting your pup's feet is paramount in the heat! Pavement, asphalt, wood, metal, sand, and vehicle surfaces can become extremely hot during the summer months, especially here in Arizona. These materials absorb heat from the sun and can stay hot for hours even after the sun has gone down. Temperatures on these surfaces can exceed a staggering 145° F! At these temperatures, a dog's paws would burn severely in only a matter of minutes. Learn more here about protecting your pup's feet in the heat.  Consider purchasing shoes to protect your dog's paws.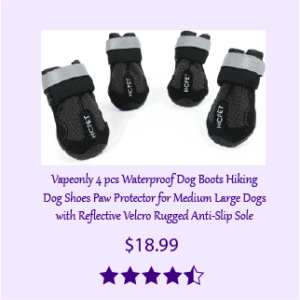 vapeonly 4 pcs Waterproof Dog Boots Hiking Dog Shoes Paw Protector for Medium Large Dogs with Reflective Velcro Rugged Anti-Slip Sole
Non-slip design allows your dog to venture freely in snowy grounds and muddy grounds.

Rubber sole protects the dog's paws from sharp thorns and hot pavement.

The wide top opening of the shoe is quick and easy to wear.

Velcro design ensures tight integration of boots and paws.

Easy to clean, the dog shoes are hand washable and dried naturally in the air.
Q: When should I teach my puppy to swim?
A: It is important to be aware that swimming is a skill that you will need to teach your puppy and practicing it safely so your pup does't get in over his/hear head is important. Some breeds of dogs naturally enjoy water such as Retrievers, Setters and Spaniels and others biologically do not have an aptitude for swimming and can have issues breathing such as Pugs or Bulldogs. A great way to get your puppy familiar with swimming is to start with a kiddie pool and work your way up. It is also highly recommended to get a life jacket for your pup that they can use while they are learning to swim and if you are bringing your dog for outdoor boating activities. Safety first!
https://www.purina.com/articles/puppy/activities/how-to-teach-your-puppy-to-swim
Vivaglory Ripstop Dog Life Jackets, Reflective & Adjustable Preserver Vest with Enhanced Buoyancy & Rescue Handle for Swimming Boating & Canoeing
HOW TO CHOOSE SIZE: Vivaglory dog life vest are available in five sizes, ranging from XS to XL. Please Measure Your Dog Twice to Get One Size before placing an order. The How to Measure & Size Chart illustration will help and is available in the product picture

FOR DOG'S SAFETY: dog PFD by Vivaglory is constructed with extra padding to enable strong buoyance in the water without restricting your dog's movement. Fastening system around belly and neck will keep the flotation vest securely on your dog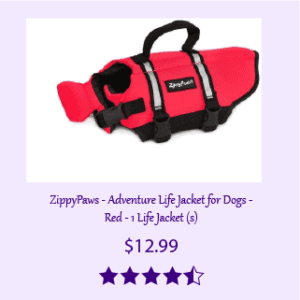 ZippyPaws – Adventure Life Jacket for Dogs – Red – 1 Life Jacket
SAFETY FIRST – This life jacket helps keep your dog safe in or around water. Whether your dog just isn't a strong swimmer, or would swim 'til she collapsed, this lifejacket will keep her afloat.

RELIABLE FLOATATION – Dense foam panels keep your dog afloat and safe in the lake, river, and ocean.

INCREASED VISIBILITY – Bright, reflective stripes sewn into the vest help keep your dog visible to any nearby people and boats.
Q: Should I consider getting a retractable leash?
A: It is NOT recommended that you use a retractable leash for your dog. Please refer to "Dr. Becker: 10 Reasons Not to Use a Retractable Leash".
Q: What peanut butter brands are safe for my pup?
A: There a lot of brands of peanut butter that are dog specific and can be found on amazon as well as human brands that you can find in your local store. Something to be aware of for the human specific brands is that many will contain super and salt so should be given in moderation. 
Dog Specific Brands: 
Green Coast Pet All Natural Pawnut Butter For Dogs, 16 Ounce Jar 

KONG Real Peanut Butter Tube 

Poochie Peanut Butter 
Human brands that are dog safe: 
JIF ("JIF Natural" series preferred)

Peter Pan – does contain palm oil, which can cause intestinal issues for some dogs. Whileit is safe for your pet and does not contain Xylitol there are better options out there.

Teddie's – has one simple ingredient: dry-roasted peanuts! Great for your pup!

Skippy – does not have xylitol making it technically safe for your dog. Like Peter Pan, it does contain a lot of added sugar, salt, and palm oil making it not ideal.
Green Coast Pet All Natural Pawnut Butter For Dogs, 16 Ounce Jar
Full One Pound Jar Of Green Coast Pet Pawnut Butter

Fill Your Dog'S Toys With His Favorite Snack Without The Dangerous Ingredients Or Added Salt, Sugar, And Oils Of Other Brands

Made From Just Two Real, Wholesome Ingredients: Peanuts And Flaxseeds

Coat Your Dog'S Pills In Pawnut Butter For A Tasty Treat She'Ll Actually Look Forward To Taking

Our Pawnut Butter Is An Excellent Source Of Healthy Protein And Ala Omega 3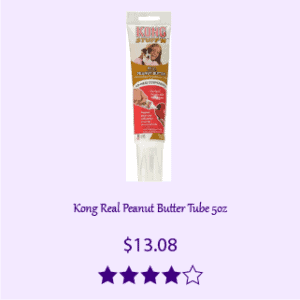 Kong Real Peanut Butter Tube 5oz
Recommended for use with all KONG Classic and KONG Extreme dog toys

All natural ingredients include roasted peanuts, sugar, hydrogenated vegetable oil to prevent separation and salt

KONG Real Peanut Butter uses a formula that is virtually identical to peanut butter brands commonly found on grocery store shelves

Simply insert the filling nozzle into the large hole of the KONG toy and squeeze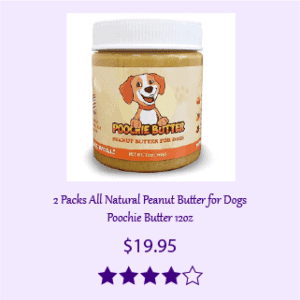 2 Packs All Natural Peanut Butter for Dogs Poochie Butter 12oz
All Natural | No Preservatives

Added Supplements for Wellness and Performance

Made in USA